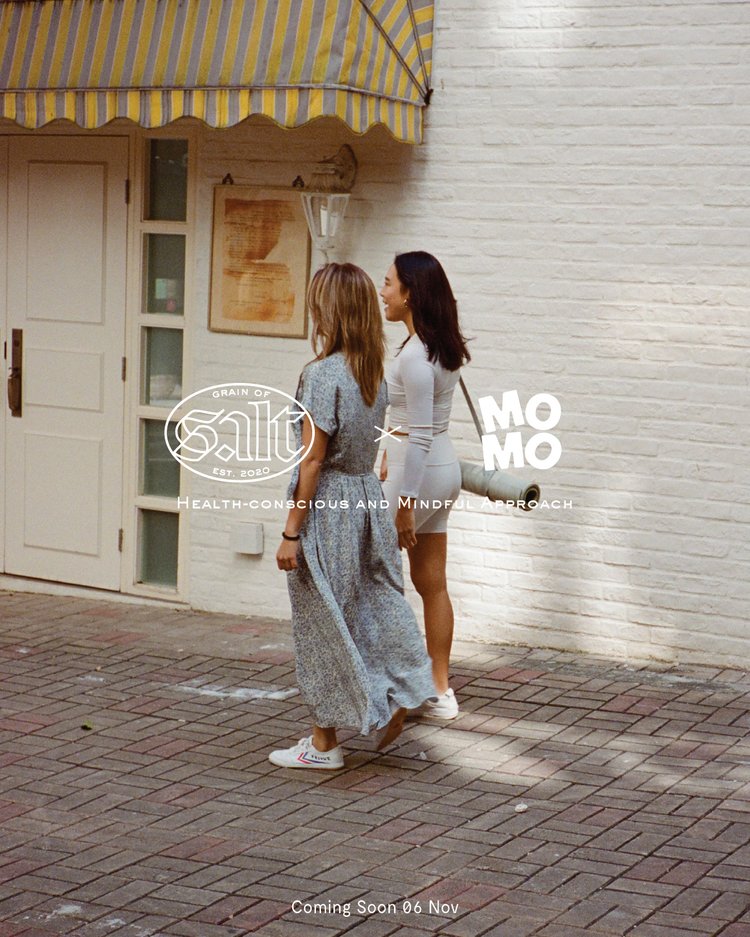 Grain of salt
Collaborating with our favorite wellness hub, Tiffany (Dietitian and Founder of GOS) and Melody designed a delicious and nutrient-dense menu featuring a 3 dishes.
Big Gains Pancake - a hearty and gluten free pancake made with oats, protein and bananas. Drizzled with Momo Almond Butter and Dark Chocolate Hazelnut Butter. Send Kelp - kelp noodle dish with marinated tempeh and a Thai-inspired almond sauce.
Fudging Good Vibes - Dark, gooey brownie that's served with Momo's signature Almond Drink Icecream.
Available until February 2022, get it while you can!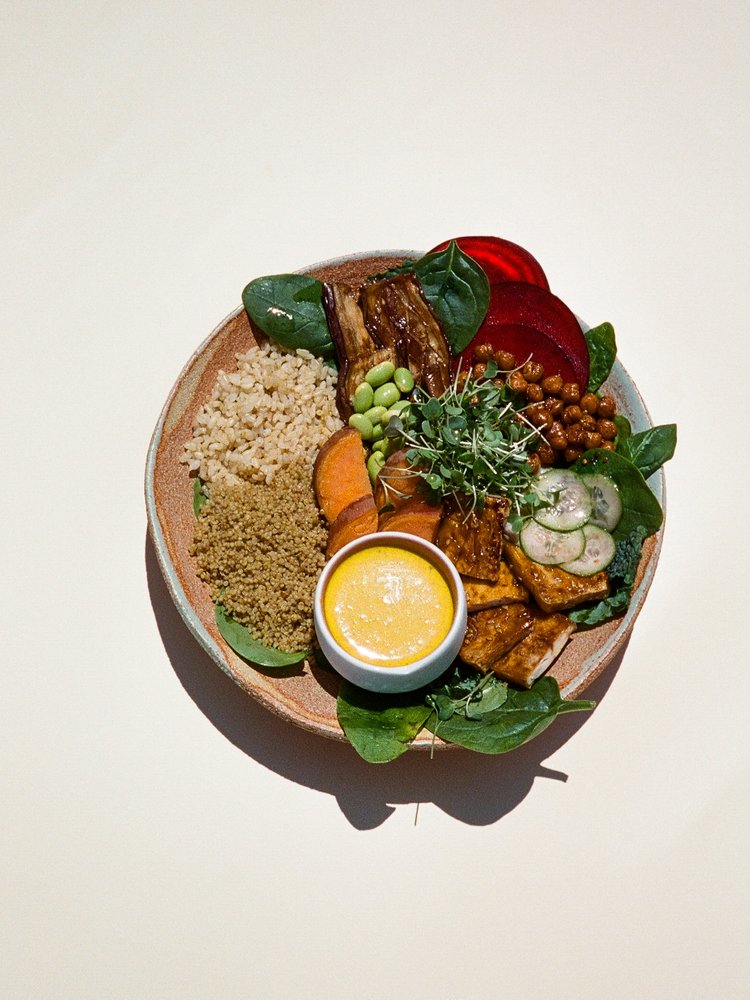 Commonfarms
Commonfarms is a local indoor farm that grows a diverse range of specialty produce, ranging from microgreens, specialty herbs, and edible flowers year-round in Hong Kong. We have been a big fan of their locally grown micro-greens, which are packed full of nutrients. In fact, our founder Melody bought their seeds and has started growing her own micro-greens at home!
For our pop-up at Tong Chong Street Market this August, we've partnered with our friends at Commonfarms to create a hearty and delicious Superfoods Summer Salad using their kale microgreens. To match the freshness of all our ingredients, we made an Almond Ginger Turmeric dressing to go with the salad. Our clients loved the crunch and the freshness of the kale in our salad.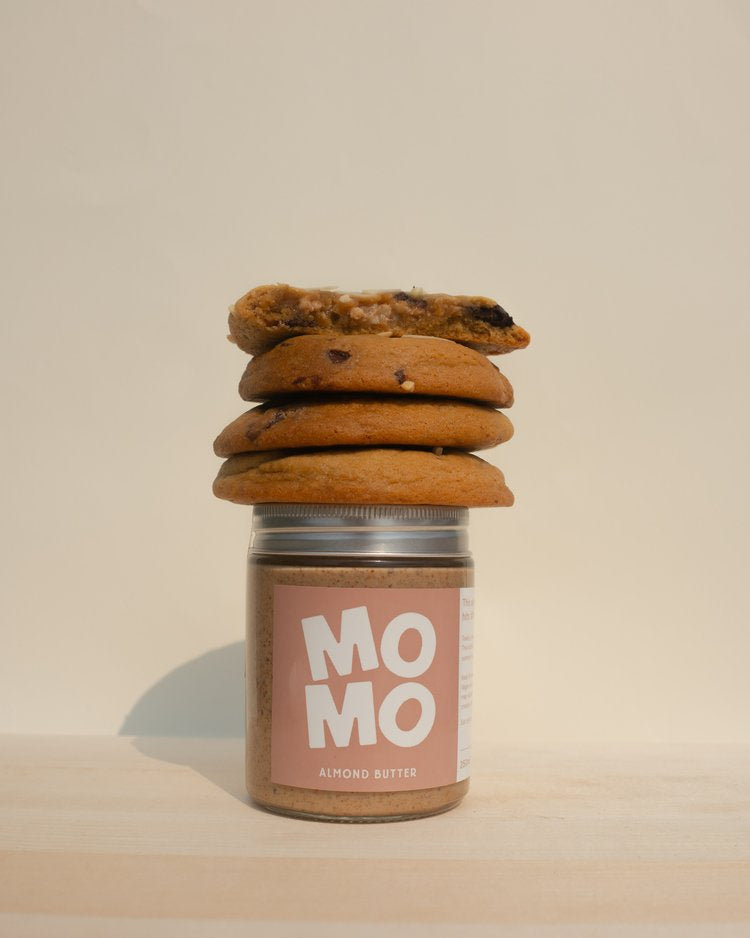 Cake of Stardust
The cookie hype is real. Our friends at Cake Of Stardust have created a Dark Chocolate Almond Butter cookie using our signature smooth and creamy Almond Butter.
Known for using the highest quality ingredients, Cake of Stardust's baked goods are always warm and fresh out of the oven. We invite you to take a bite of this warm cookie with a gooey Almond Butter and dark Valrona chocolate chip center. It's a match made in heaven.
Check them out in Tai Hang! 
G/F, 20 Brown St, Tai Hang
BeJuiced + Bar
Bejucied is the OG Hong Kong-based juice bar that makes cold-pressed juice and whips fresh acai bowls using real acai fruit. Working closely with their nutritionist, they crafted each of their delicious and nutritious juice recipes with a goal to cleanse, reset and detoxify the body. 
Since June 2021, we have been supplying our freshly made Almond Butter to Bejuiced. They bake and whip up all of their delicious healthy snacks, granola, and other recipes using our Almond butter. Our favorite acai bowl toppings are mango, cacao 'rawnola', and a scoop of our creamy almond butter. 
Check them out in Soho. 
45 Peel St, Central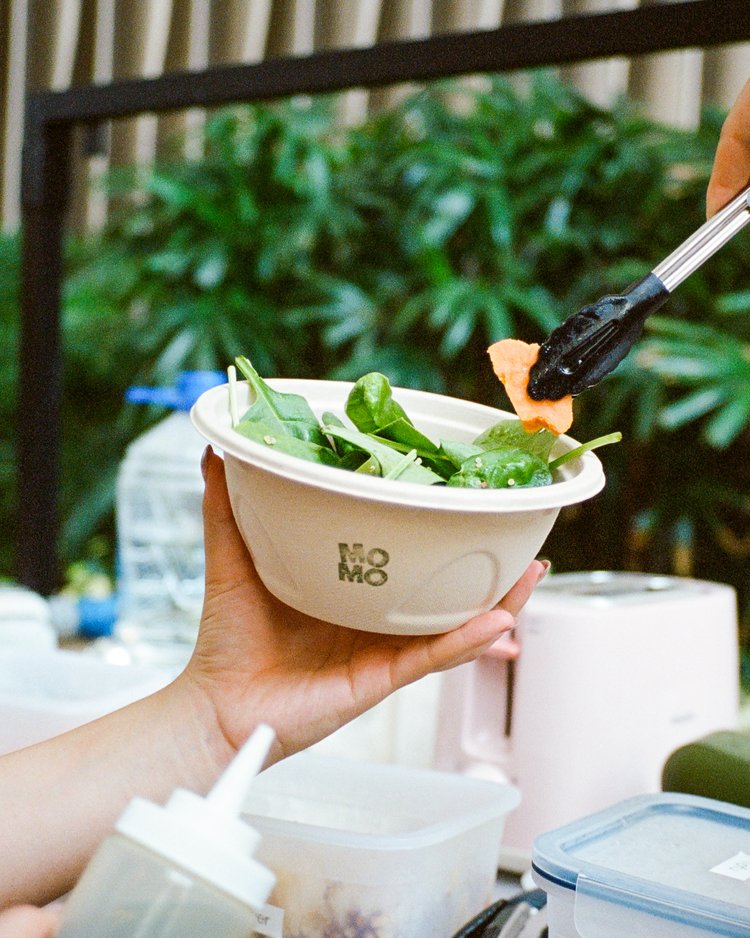 Tong Chong Street Market
The most fun and exhilarating project we've done yet! Inspired by eco-living and sustainability, Tong Chong Street Market (TCSM) is a food market at the Swire properties in Quarry Bay, featuring a rotation of different local brands.
This August 2021, we were invited to be at TCSM for one month serving up delicious food options with the theme "A Hot and Cold Summer." We have designed a special menu using our Momo products exclusively for this pop-up. We curated a healthy, hearty, and nutritious selection serving breakfast, lunch, and dessert. This includes our Almond Banana Sourdough Toast, Summer Salad Bowl, Frozen Pitaya Bowl, and Momo Almond Icecream. All our menu items are Vegan friendly. The ice cream is our newest creation - made with our signature Almond Drink as the base, we wanted to create the ice cream that tastes exactly like it.  It is also sugar-free and keto-friendly.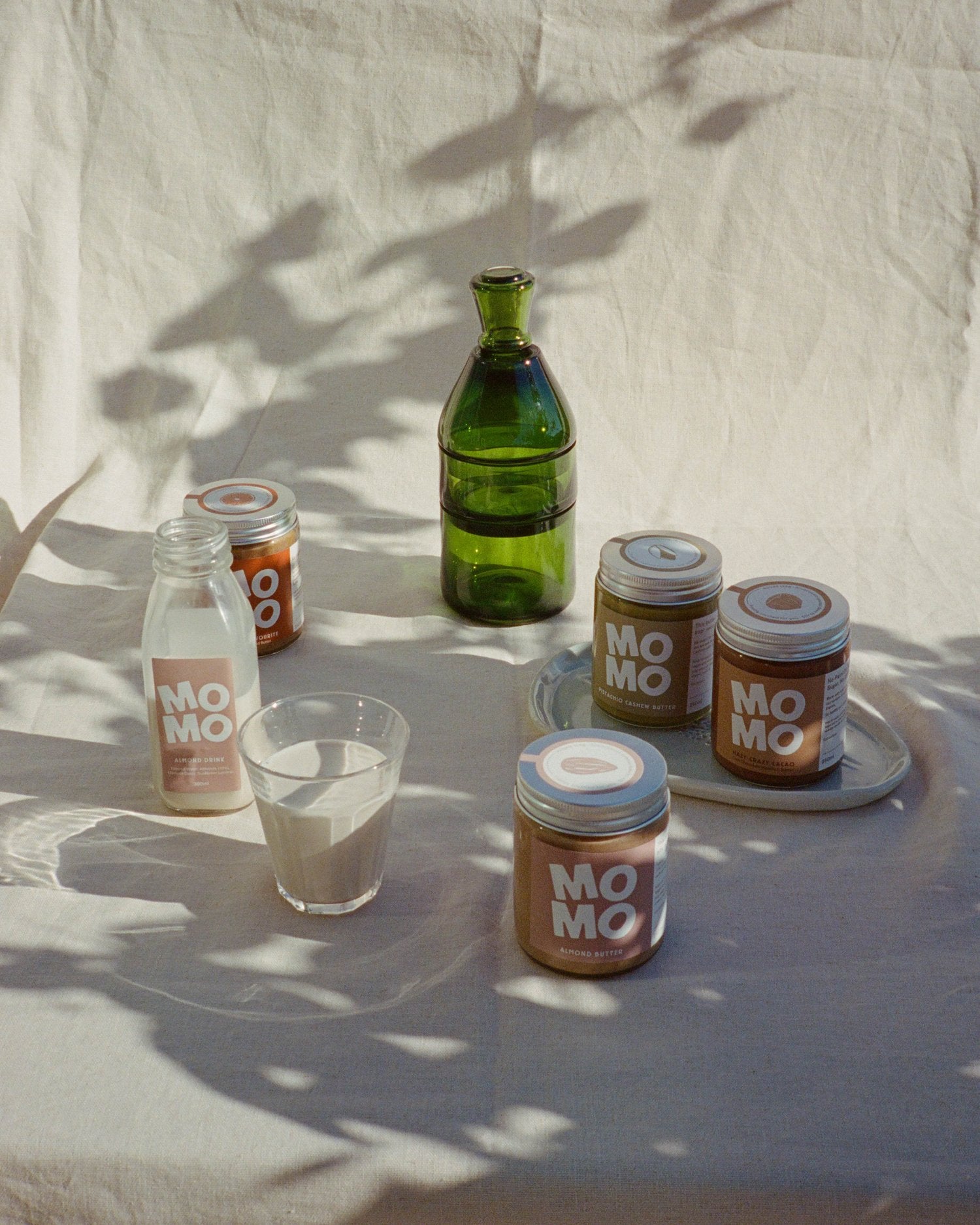 The Upper House
Known for its earthy, sleek, and minimalist interior, The Upper House is also committed to sustainable practices, placing a big focus on reducing waste and giving back to its community. They also like to host fun and seasonal events featuring brands that align with their vision. This Summer, we were invited to join their Farmers Market, featuring a range of produce and products made by local brands. 
We brought all our signature products and served our ice cream sundae - featuring Momo Almond Icecream, drizzled with our Dark Chocolate Hazelnut Butter and topped off with our crunchy homemade granola! Exactly what we need on a hot summer's day. 
WeWork
Not only does WeWork provide functional and flexible workspaces, but they also focus a lot on community building, allowing their clients to connect, learn and grow with other local brands. From scheduling talks with industry professionals to food and wine tastings, they know how to work hard and have fun. 
Momo is honored to be a part of the WeWork community since April 2021. We have been popping up at various WeWork locations for a breakfast-inspired tasting session, we introduce how to best use our products with recipes using our drink and butter range. We are so happy to be supported by their members who are big fans of our products. Catch us at another WeWork location.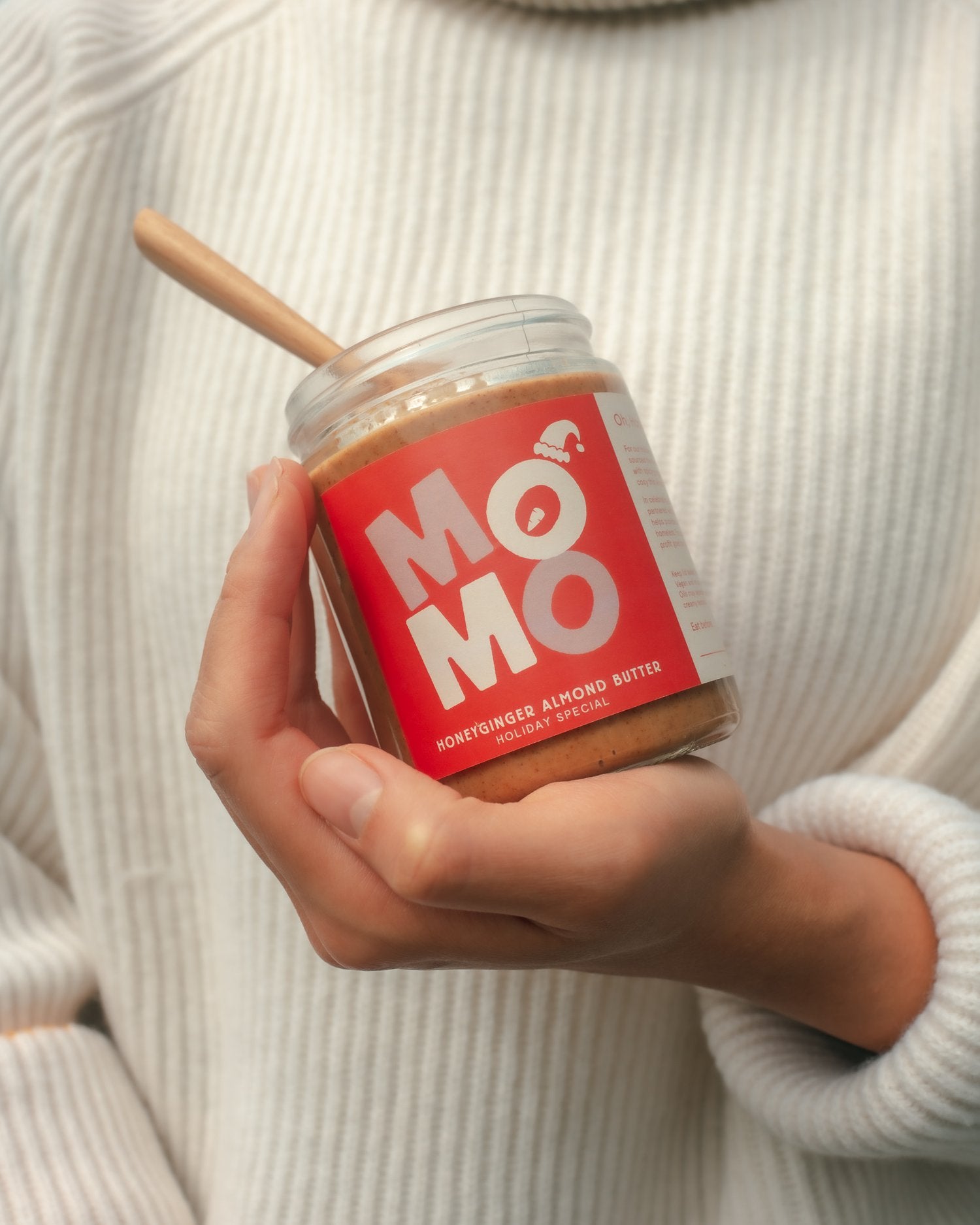 Impact Hong Kong
Our first-ever collaboration! Shortly after launching Momo in November 2020, we launched a special flavor butter to celebrate Christmas. Our limited-edition flavor was Honey-Ginger Almond Butter. For this holiday season, we wanted to support a local charity to help them keep pursuing their efforts in giving back.
We chose to support Impact Hong Kong, a non-profit organization whose goal is to provide the homeless with a connection to friends, society, and more importantly, a safe and comfortable home. Impact HK is really hands-on with their initiatives and as a small start-up, we really wanted to support them the best way we can. Part of the proceeds of this limited edition product went to the organization. We are so thrilled that many of our supporters donated directly to Impact Hong Kong as well. Click here to join one of their outreach programs - Kindness Walks, serving and providing resources for the homeless. 
*https://impacthk.org/whatwedo/our-outreach/
Wing Woo Bee Farm
Our honey supplier. To live in a sustainable environment, we believe it means sourcing local and fresh produce. We love using fresh produce because of its higher nutrient value. In addition, not only are we able to reduce the carbon footprint of transport, but we are also supporting local businesses. 
While creating our Mandarin Almond Butter and Honey-Ginger Almond Butter, we wanted to source the freshest local honey available, and that's how we discovered Wing Woo Bee Farm. Located near the 10,000 Buddha Monastery in Shatin, we hiked up to their farm to check out their range of fresh honey. After a bunch of taste tests, the verdict is that fresh honey is just unbeatable. 
http://www.wingwobeefarm.com.hk/